How to Fix Netflix App Error T1 – Netflix is one if not the best online movie streaming center of movies, tv series and so much more but as users are using the Netflix app to stream movies they will surely face some errors and one of the popular netflix error which normally pop up when trying to stream that video is
Sorry, there was a problem communicating with Netflix. Please try again. (T1)
This is called the Netflix T1 Error which windows 10 users normally face when using the Netflix app. Now the important question is how can we solve this problem and stop it from happening in future of using the Netflix app. I have found different kind of solutions which can help fix the Netflix app T1 error. But This Netflix T1 error comes in different ways and words but at the end of the error message you will find T1 below.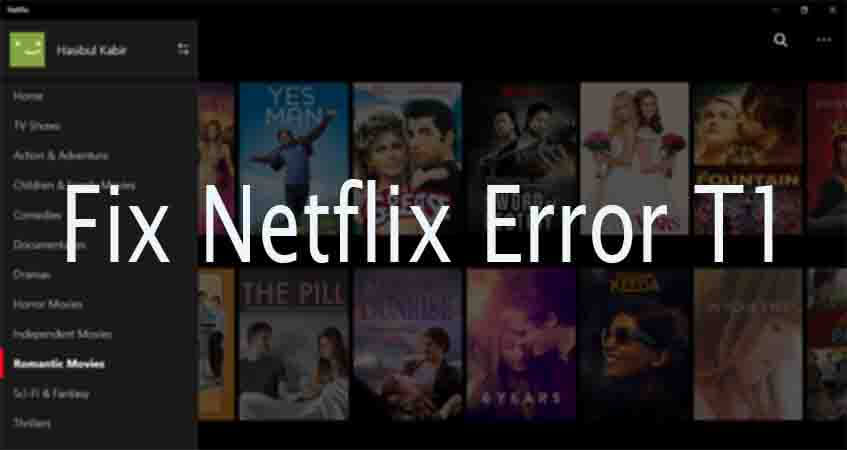 Well that to tell you it is a Netflix T1 Error and the solutions i have available should be able to work well for you when every you are faced with the Netflix T1 error.
How to Fix Netflix T1 Error On Windows Pc
I have found some effective ways in which you can fix the Nteflix T1 error easily whenever you are faced with the error while you are streaming on your windows computer especially windows 10 OS.  First of all, we need to understand that the Netflix T1 error is a connection error. whenever there is a strange connection or blacklisted or banned IP connecting with the Netflix app you might get a Netflix T1 error.
So how do you fix the Netflix T1 Error?
1 Disable Any VPN
if you are using any Vpn to connect to Netflix app to stream, well that could be the problem, because Netflix has top up there security by blocking some vpn from having a successful access to the app therefore this can be the issue with yours and that is why you are facing the Netflix T1 error issue. So disconnect or disable any VPN connections on your computer and make sure you are connected with your main IP address.
This should be able to fix the issue but if the Netflix T1 error still comes up then try other solutions
2 Reinstall the Netflix App
At this point, I will suggest you uninstall the Netflix applications from your windows 10 computer and perform a clean uninstall and nothing more than that. if possible redownload a new installation file for the Netflix app and then reinstall it to your computer. You should not face the Netflix error again
3 Check Your Timezone and Date
As you may know, the date and timezone normally have an effect on your computer and mobile devices, that is why it is required you set these correctly in order not to have issues with your browsing and surfing of the web as it may be referring to a wrong setting or configuration due to the incorrect date and timezone of your region.
So all you have to do is, check to see if your computer date and region timezone is well set and if it is not well done kindly do so as this might be the cause of the Netflix T1 error.
4 Bad/ Weak Internet Connection
As I said earlier that the Netflix T1 error can be caused through the network connection, bad Ip address and as well as poor network connection also known as low internet speed. Netflix is a streaming online service which requires a high network connection for it to work well and stream without issues or lagging and sometimes the Netflix T1 error will pop up due to the weak or poor network connection.
So, try as much as possiible that your network connection is much stronger and faster in order for the Netflix error not to show up again.
With these method, you should be able to fix the netflix T1 error easily and fast. The method or fixes are very simple and easy to do so there is no need to do tasking steps as it will go.
Conclusion on How to Fix Netflix App Error T1
Try the above method and am sure you will say bye to Netflix T1 error as they wont disturb you again from now but if you have tried all the methods and you still encounter such errors please let me know in other to do a more harder search in looking for the Netflix T1 error solution.