Knowing how to fix kernel security check failure windows 10 is one question Windows 10 user normally ask themselves when they face such "Kernel_Security_check_failed" error on their computer but not to worry because the solution is here.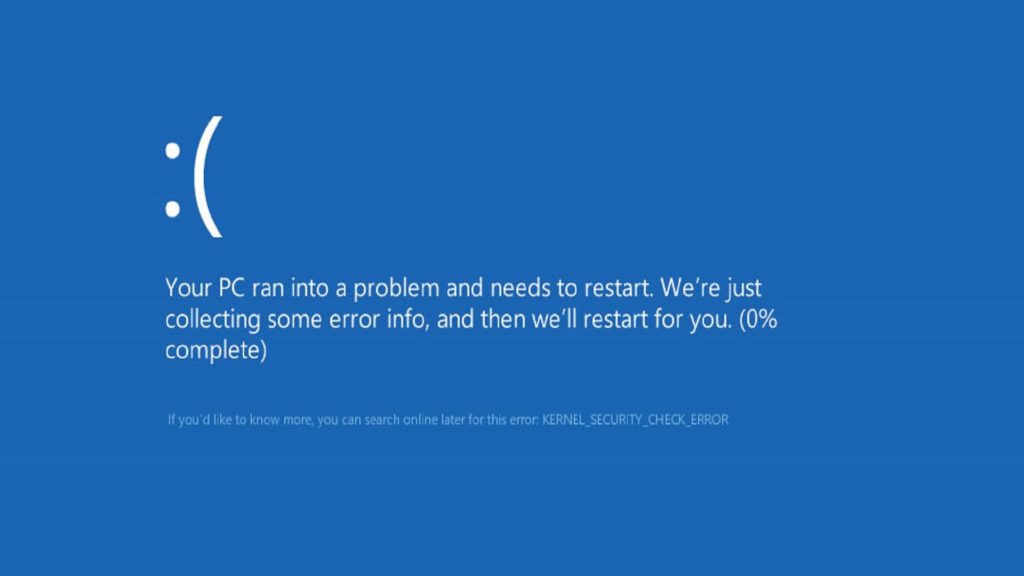 Some may begin to think that only Windows 10 OS get that error but actually almost all Windows OS from XP do face such issues and because the error is from the kernel which is where Microsoft built the Operating System "Windows", so you can say that the Kernel is the core area of the OS.
I knowing the reason why you are reading this article is to get a solution to the "Kernel_Security_check_failed" error you are getting on your computer. I will dive straight to the solutions which will help you get your computer OS back to shape.
"Kernel_Security_check_failed" in Windows 10 Solution
Now that you have been faced with the "Kernel_Security_check_failed" error getting the solution is the next course of action, since the Kernel Security Check Failure in Windows 10 is a core issue the solutions provided might be a little bit "techy" but following the instructions below will be enough to direct you on what and how to go about the issue successfully.
Before you go to the solutions below,
1. Restart Your Computer
try this quick solution by just restarting your computer and see if the problem still comes up during the time you use the computer when it does you should then consider the solution below
2. To Fix The Kernel Security Check Failure in Windows 10 – Check & Install the latest available Windows Updates
Windows always try as much as possible which debug some bugs found and the method in which the share the solution or fixes of these bugs is by simply sending out updates through OTA, now it is up to you to download the updates and install it. So when you have been faced to Kernel security check failure in windows 10, check if they have have sent updates which may fix the issue for you.
3. Boot your Computer into Safe mode
once your computer is on safe mode and you do not identify the problem then you know that it is one of the programs installed on your computer that is the cause or simply an error in the drivers which can be located my your "Device Manager". Uninstall or update such driver.
4. Scanning Your Computer Of Virus
You should also consider having a full scan of your computer with a good and updated antivirus, because most virus do cause the BSOD error such as the Kernel Security Check Failure you are experiencing right now.
5. Scanning System Files through Command Prompt.
Also you should also scan your system files from your command prompt. To do this, all you have to do is open your CMD (Command prompt) as Administrator and then scan by typing "sfc /scannow" into into your CMD and "Enter". once the scan is done, you can now restart and see if the problem persist.
6.System Restore
System Restore is another great solution to all this, the system restore will take you back to the earlier state of the computer when there was no error popping up. To do this Go to your control panel >> BackUp and Restore>> and Click on Restore to a specified date.
Conclusion on "Kernel_Security_check_failed" Solution
The "Kernel_Security_check_failed" error only happens once in a long while so don't be worried or scared when faced with this error, the methods above should be able to solve the problem when you try them. I will keep updating this article with more methods to solve the "Kernel_Security_check_failed" error.